First of all, thanks for considering me and for taking a look at this page. I've provided guidance and coaching to people for more than 25 years and I still feel deeply honored and genuinely grateful every time someone invites me into their world. When it comes to working though difficult issues and building a better life, there's nothing like a good one-on-one conversation with a thoughtful, experienced counselor who listens carefully and offers wise, practical advice. If you're interested, I'd be glad to arrange a free initial consultation to see if working together with me makes sense for you.
I am a licensed mental health professional based in Cincinnati, Ohio.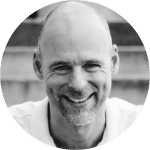 Simply stated, I've always been good at helping people resolve difficult problems and make good decisions. I'm a warm, thoughtful person with loads of experience as a youth worker, non-profit executive, university chaplain, mentor and friend, and I've been a student of interpersonal relationships and community building throughout my career.
My wife Marty and I have been married since 1988, and together we raised two lovely young adults. Marty is an artist who also works for an organization serving homeless women and families.
In addition to being a licensed counselor, I'm the humanist chaplain at the University of Cincinnati, a community builder and the host of the Humanize Me podcast.
I grew up in suburban Philadelphia and studied at Haverford College and Brown University. As a teenager I became a committed Christian, and I spent nearly three decades as an inner-city minister before leaving Christianity. Unless we're discussing spirituality, however, even my closest friends can't really tell the difference. I've always believed in the transformative power of love, and I still do.
Frequently Asked Questions
Why should I talk with you?
Bart
2023-06-12T20:04:35+00:00
Simple as it sounds, feeling good about yourself and enjoying your life can be very difficult, especially when you don't have the kind of support you need. Talking things through with a wise, caring counselor is one of best ways I know of to overcome problems, find new direction, and begin improving your life in a meaningful way. Over and over, I've seen such conversations become the difference between ongoing brokenness and positive transformation. There's no magic here, of course, but you should begin to see results fairly soon after we start.
"I worked with Bart at a time when I was isolated by work and had very few friends and colleagues to process my life with. Our sessions helped me to recognize the importance of relationships and to get to some of the core issues that fed my isolation. In a very short period of time, with Bart's help, I was able to reconcile with friends and family and to build new relationships in my local community."
"Before working with Bart, I had only vague ideas about happiness and how to seek it. Bart possesses such a keen intuition that he quickly helped me find a more sustainable and, frankly, better path. As a result, my career has become more meaningful and engaging and my personal relationships have improved. Anytime I need life advice, he's the first person I want to talk to. I've referred many of my friends to Bart, because he made me a better person."
"Bart guided me through personal tribulations, helping me stay true to myself and make the most ethical choices. Bart is the best kind of teacher, inspiring those around him to do good, be good, and feel good. He made me feel recognized and important. I have never met someone so passionate about helping others and making sure that they reach their full potential."